Graduate Student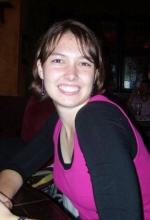 Biography
I grew up outside of Rochester, NY and started at Rensselaer Polytechnic Institute in 2006. I was accepted in the School of Science Accelerated BS/PhD program in 2007. At first I was worried that the program would dictate the rest of my time as an undergraduate but that is not the case. I was able to arrange my classes so I was able to spend the 2008-2009 school year at the University of Sussex in Brighton, England. Studying aboard allowed me to experience a different education system and explore a small corner of the world before returning to RPI to complete the second half of the program. After completing my B.S. in chemistry, I shifted my field to biochemistry and biophysics. Outside of the lab, I enjoy staying active by boxing, dancing, and hiking is the local state parks. While studying abroad I caught the 'travel bug.' I love exploring new places and hope to visit all 50 states and fill a passport before it expires.
Education
Rensselaer Polytechnic Institute, B.S. Chemistry (Magna Cum Laude, 2006-2010)
University of Sussex, Brighton, England (Exchange, 2008-2009)
Research
I am currently working on the artificial Golgi and endoplasmic reticulum project as part of the Linhardt and Dordick labs. This project incorporates digital microfluidics and nanotechnology for the applied enzymatic synthesis of proteoglycans. An eventual goal of this project is to development a fully automated high throughput platform for the custom synthesis of potential therapeutic proteoglycans. I also work in the structural and activity analysis of glycans extracted from different tissues.
Awards and Academic Honors
NSF Graduate Research Fellowship Honorable Mention
Darrin Scholars Fund Summer Fellowship
Rensselaer Leadership Award
Emily Roebling Award
Professional Societies
American Chemical Society (2009 - Present)