Undergraduate Student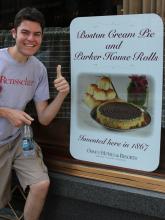 I joined the Linhardt Labs in the spring semester of 2011 and have been proud to refer to it as my home on campus since then. When away from RPI, I return to my permanent home in Columbus, Georgia, and enjoy the brief periods of rest and relaxation. My aspirations in chemistry are directed towards the field of medicinal chemistry, yet, my time in academics has only just begun.
Education
2009-Present, B.S. Chemistry, Department of Chemistry and Chemical Biology at Rensselaer Polytechnic Institute, Troy, NY
Expected Graduation Date: May 2013
Research
I currently work in the synthesis subgroup in the Linhardt Labs under the direct supervision of 5th year Ph.D. student, Sayaka Masuko. I began as an undergraduate research assistant in January of 2011 working on the chemical synthesis of polysialic acid analogs for potential use in anti-cancer and flu vaccines. The bulk of my research, however, now focuses on the chemoenzymatic synthesis of heparin-like oligosaccharides by use of UDP-sugar donors and biosynthetic enzymes. The goal of my research is to synthesize a library of short-chain heparin analogs by use of high-throughput purification methods.
Awards and Academic Honors
2009-Present, Dean's List
2009-Present, Rensselaer Leadership Award
Professional Societies
American Chemical Society