Undergraduate Student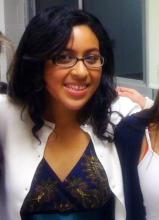 I love what I do! Although I'm a sophomore, I certainly know what I want in my life. After my first year at Rensselaer, I wanted to become more involved and experienced so I quickly jumped on the opportunity to be a part of Dr. Linhadt's group as an ambitious freshmen majoring in Chemical Engineering. With the help of Amanda Weyers and Fuming Zhang, this dream has been a living, working reality. Aside from my research, I am the Vice President of the Society of Hispanic Professional Engineers, Treasurer of the NSBE/SHPE Career Fair, and a sister of Alpha Phi Fraternity International. In my free time I like to run and play guitar.
Contact Info
Campus Address:
1999 Burdett Avenue
McGiffert 203C
Troy NY 12180
Education
Rensselaer Polytechnic Institute, Troy NY 12180
B.S. Chemical Engineering, Department of Chemical and Biological Engineering
Class of 2014
Research
My project as Linhardt Labs focuses on isolation and characterization of Keratan Sulfate, a less widely researched disaccharide within the same family as Herparin Sulfate. While applications of this product are still unknown, we are hoping to make new discoveries within the close of this year. Throughout this project I have been able to grow professionally as well as technically; and have become part of a big, diverse family!
Awards and Academic Honors
NSF LSAMP Award
Rensselaer Grant
P&G Company Scholarship
Rensselaer Leadership Award
Dean's List
Professional Societies
American Institute of Chemical Engineers
Society of Hispanic Professional Engineers